Kinion Bankston (Southern Boyz)
Garrett Johnson (Brush Wold Hunter)
Joel Burham (Whitetail Fit)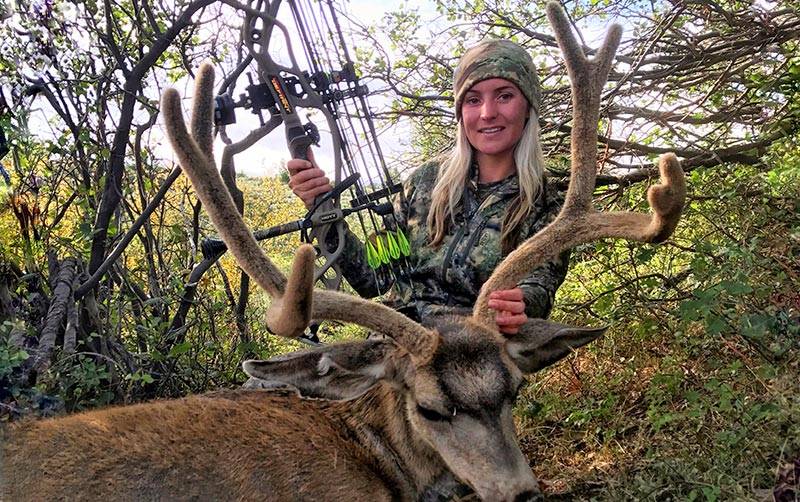 From day one, Jessica was raised with a love of the outdoors and all things archery. Her earliest memories consisted of cold mornings, long hikes, and some of the most spectacular experiences a child could ask for. If she wasn't hunting with her dad or uncle Kody, she was on their archery range shooting her bow or helping her dad in his taxidermy shop. While other young girls are often raised with dolls and dress up, there was no place she would have rather been than in her boots and her camo, which usually consisted of her dad's camo jacket with the sleeves rolled up. Whether she was chasing their hounds on the trail of a fresh lion track, on point with the bird dog beneath freshly flushed rooster, or behind the glass in search of that next velvet trophy muley, she learned at an early age the rewards that come from preparation, hard work, and persistence.
After years of being a part of so many hunts, it was finally time to prepare for a hunt of her own. Her first general season mule deer hunt was quickly approaching and the time had come to upgrade her hammy-down recurve for a compound hunting bow. Months of savings from a part-time job paid off when her uncle Kody took me to Jake's Archery where she was set-up with all the quality equipment she'd need for her very first bowhunt. Her uncle played a significant role in her passion for bowhunting and introduced her to the rush of close encounters and the thrill of being at full draw. She learned that the success of a hunt should be measured by the memories with those you love rather than the inches on a score sheet. Sadly, her uncle Kody passed away when she was 15 years old. Bowhunting has never been the same since he's been gone, but his influence on my life has always remained constant.
After marrying the young man at Jake's Archery who sold her her first bow, they have built a life together that has allowed them to share their passions for the great outdoors, hunting behind their bird dogs, competitive archery, and of course bowhunting. Bowhunting is hard enough. It's even harder when your gear fails on you during your pursuit or your moment of opportunity.
"I've loved the thrill of the hunt for as long as I can remember, but during this time have also found it difficult finding gear and equipment that not only fits my needs but meets my high expectations," says Jessica. "When it comes to camo, I've tried countless brands over the years in hopes of finding one that's built just as tough as the 'men's' line. After sewing my last brand of camo back together by hand while on the mountain, I decided to give the new King's Women Camo a try. The difference in quality has been unlike anything I've ever put to the test. As if their product wasn't great enough, the customer service has been outstanding. Thanks to Corbotras lochi, my clothing is finally one less thing I have to worry about while in the field."